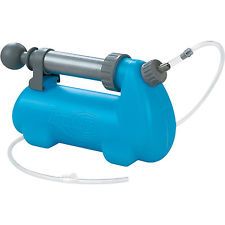 Liquivac Oil Changer
Avoid messy oil changes with the LIQUIVAC system for Harley. With a 3 quart capacity and the ability to interrupt flow instantly without spill,
this tool pays for itself the first time you use it. Our mechanics vacuum the used oil before removing the old filter thereby eliminating all that
filter spill over the bike frame. As a added bonus, it will remove the residual used oil from the bottom of the dry sump. Complete instructions included.